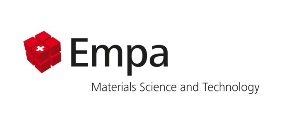 School/Institution:EMPA, Switzerland, Dubendorf
Discipline: Robotics
Employment Type:Full-time
Posted:2020-05-12
Contact Person:If you wish to apply for this position, please specify that you saw it on AKATECH.tech
PhD in the field of 3D printing of sensor integrated soft robotic structures
Job Description
Empa is the research institute for materials science and technology of the ETH Domain and conducts cutting-edge research for the benefit of industry and the well-being of society.
Our Laboratory High Performance Ceramics is looking for a PhD in the field of 3D printing of sensor integrated soft robotic structures
The PhD student is funded as part of the Marie Skłodowska-Curie Actions (MSCA) Innovative Training Networks under the European Commission H2020 program. The PhD student will contribute to the project "Soft, Self-responsive, Smart MAterials for RoboTs" as early stage researchers (ESRs) with the possibility to write a PhD thesis within the 3 years project duration.
Your Tasks:
A detailed understanding of fiber based functional elastomer structures
To synthesize ceramic magnetic and ferroelectric particles (ferrimagnetic and ferroelectric materials) by wet chemistry, flame synthesis and electrospinning
To evaluate concepts of magneto- and ferroelectric active elastomer structures
To introduce the developed materials and composites in soft robotics applications
To develop soft sensors and actuators considering industrial application
Your Profile:
Master degree in materials science or engineering
Previous experience of ceramic magnetic materials, synthesis of inorganic powders and nano fibers, direct printing or FDM technology.
Willingness to move countries for ESR placement and temporary secondments.
Fluent in English: Network fellows (ESRs) must demonstrate that their ability to understand and express themselves in both written and spoken English is sufficiently high for them to derive the full benefit from the network training.
Advanced knowledge of FEM simulation, ORIGIN- and MS Office.
Personal initiative, reliable, responsibility, teamwork and communication skills.
Our Offer:
We offer a PhD student position at the research institution, in collaboration with European Universities, with excellent infrastructure and plenty of possibilities for personal and professional development.
For further information about the position please contact Dr Frank Clemens frank.clemens@empa.ch and visit our websites www.empa.ch/web/s201 and Empa-Video
The recruiting process will be centralized and organized by the SMART Project Committee, a Marie Skłodowska-Curie Actions (MSCA) Innovative Training Network under the European Commission H2020 Program.
For more information and downloading of your application, please visit the webpage http://www.smartitn.eu/recruitment/ and select the Position ESR 11. Applications via email will not be considered.
Job Details
Title: PhD Student in the field of 3D printing of sensor integrated soft robotic structures
Employer Empa
Job location: Ueberlandstrasse 129, CH-8600 Dübendorf
Job types: PhD
Fields: Materials Engineering, Electromagnetism, Materials Chemistry, Organic Chemistry, Robotics, Materials Physics, Electronics
Contact Person: If you wish to apply for this position, please specify that you saw it on AKATECH.tech