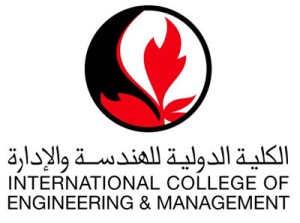 School/Institution:International College of Engineering & Management (ICEM), Oman, Seeb
Discipline: Safety Engineering
Employment Type:Full-time
Posted:2020-05-16
Contact Person:If you wish to apply for this position, please specify that you saw it on AKATECH.tech
Lecturer in Fire Safety Engineering and Fire Safety Management
Job Description
Position: Title Lecturer
Department: Fire Safety Engineering/Management
Position Type: Full-time
Job Grade: As per the salary scale
Job Purpose
To contribute to the academic development, course management, teaching and research development in the areas of Fire Safety Engineering and Fire Safety Management.
Duties And Responsibilities
To contribute to teaching of the academic programmes with a focus on Fire Safety Engineering and Management (e.g. through personal tutoring, material development, session preparation, teaching and assessment, etc.) in collaboration with colleagues and in line with affiliate regulations and practices
To act as module leader for a number of identified modules and take responsibility for planning and coordinating delivery and assessment in those modules
To undertake administrative duties relevant to course team and module delivery and leadership (e.g. keep assessment records,  records of student advisee meetings, etc.)
To work with the Heads of Department in the development and operation of courses; and to support  the Heads of Department in delivery and/or administration of courses or groups of courses.
To adhere to quality assurance and enhancement systems to ensure high standards are maintained and the student experience is enhanced.
To contribute to research and activities as a individual of part of a team
To act as project supervisor on dissertation projects
To develop and consolidate contacts with industry/ employers and other external organisations and contribute to community engagement activities
Person Specification/ Requirements
Essential
Education
Professional Qualifications
Work Experience
Skills
Other
Desirable
A good honours BSc or BEng degree or equivalent in a relevant area.

A Masters qualification (or equivalent)

Membership of a relevant Professional Body, for example, IFE, SFPE, CFPS

Minimum of 2 years teaching experience

Ability to teach and supervise dissertations up to undergraduate degree level

Flexible and innovative approach to teaching and learning

Ability to undertake research/knowledge transfer

IT literate with knowledge of Microsoft package and online learning environments.

Proficiency in Computational Fluid Dynamics, such as, Fire Dynamics Simulator, Pathfinder/Pyrosim

Knowledge and experience in delivering laboratory sessions for undergraduate programmes in fire safety engineering

Excellent communication skills

Commitment to the College's Mission, Vision and Values

PhD in relevant area or Chartered Engineer

Experience in the use/application of international fire codes (e.g.  NFPA 101, 12, 72, 12, 5000/  BS 5306, BS9999, BS7974)

Research articles published or under review.

Experience of successful practice in teaching, assessment and student development.

A track record of adherence to quality assurance in higher education teaching, assessment and student development.
Key Performance Indicators
Key Accountabilities
Teaching Evaluation

Student Evaluation

Peer Evaluation

Line Manager Evaluation

Research and Scholarly Contributions

Professional Development

Service to the College
All applicants must fill in their information at the link below along with finishing their applications by filling the form under the "apply now" button
https://www.surveymonkey.com/r/ICEM_Recruitment
Job Details
Title: Lecturer in Fire Safety Engineering and Fire Safety Management
Employer: International College of Engineering & Management (ICEM)
Job location: P.O Box: 2511, P.C: 111 C.B.D Seeb Sultanate of, Muscat
Job types: Lecturer / Senior Lecturer
Fields: Technology Management,   Fire Safety Engineering,   Fluid Dynamics,   Technology Education
Contact Person: If you wish to apply for this position, please specify that you saw it on AKATECH.tech