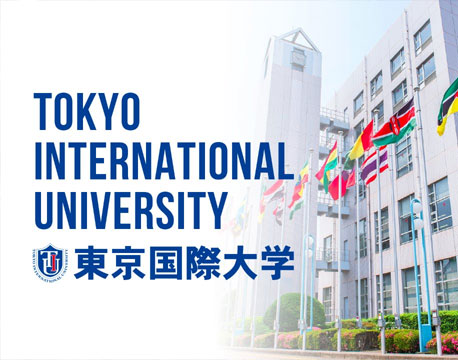 School/Institution:Tokyo International University, Japan, Kawagoe
Discipline: Information Systems
Employment Type:Full-time
Posted:2019-08-26
Contact Person:If you wish to apply for this position, please specify that you saw it on AKATECH.tech
Recruitment for a Tenure-Track or Tenured Faculty Positions in IT Business
Institution: Tokyo International University
Location: Kawagoe, Japan
Category: Faculty - Business - Information Systems and Technology
Type: Full-Time
About TIU
Tokyo International University (TIU) offers undergraduate and graduate programs both in Japanese and English. The English track degree program, called E-Track and taught entirely in English, attracts students from Japan as well as from around the world.
The curriculum of the E-Track Program enables students to cultivate a broad educational background and deepen their knowledge in specialized fields of Digital Business, Business Economics, and International Relations. E-Track also boasts comfortable class size, creating stronger bonds between students and teaching staff.
More details about TIU can be found here: https://www.tiu.ac.jp/english/etrack/index.html
Tokyo International University seeks applicants specializing in IT Business with concentrations in one or more of the following areas.
Data Security
Data Governance
Encryption Technologies
Cryptocurrency Technologies
Fintech
Digital Banking
The position is open for Assistant, Associate, or Full Professor level, depending on qualifications.
Successful candidates will be offered either a tenured or `tenure-track' position depending on experience. The `tenure-track system' refers to a system under which a newly hired full-time faculty member transitions to tenure status after successfully completing a track period and the tenure screening process within a maximum of five years.
Content of work
The teaching could involve both undergraduate and graduate levels. TIU operates on a semester basis and each course lesson is held twice per week over the duration of 14 weeks per semester (each lesson is 90 minutes); the successful candidate will be in charge of three courses per semester. All the classes are conducted at TIU's Kawagoe Campus; the academic year is from April to March (of following year). Spring semester is from April to July, Fall semester is from September to January.
Responsibilities include advising and working with students from diverse backgrounds, as well as undertaking quality research.
Address of work location
1-13-1 Matoba-kita, Kawagoe City, Saitama Pref. 350-11972
Qualifications
The candidates must have a PhD in the areas of Computer Science/Mathematics/ Statistics/Business Management/Financial Technology/ Financial Engineering/ Engineering or related areas with practical knowledge to fit into any position stated above. Candidates with Master's degree and relevant practical experience are also considered. Candidates must have some proven research record and/or practical experience.
Candidates with a proven track record will have to provide evidence of recent and expected publications. Recent PhD graduates and ones expecting to graduate before Apr, 2020 are encouraged to apply.
Fluency in English is required, and knowledge of Japanese would be an asset.
Compensation
A competitive salary is offered. Remuneration package includes health insurance, pension, commuting allowance, annual research fund and individual research office.
Application method
Please specify to which position you are applying and send an email to "saiyou@tiu.ac.jp" with the following materials attached:
In the subject of your email, please include this code: IT2020HigherEd
Cover letter of application
Curriculum vitae (please also include your complete contact details and contact information of three references - references will not be contacted without first notifying the applicant.)
List of classes taught (including title of class, brief description of contents, level)
Course syllabi of related fields that have been taught at any higher educational institution
Full text of three research achievements (e.g., Journal articles, publications, etc.)
Copy of diploma or transcript showing proof of Ph.D. or enrollment in a Ph.D. program
Note
We request that all application documents be send via e-mail and not by postal mail. Items sent through postal mail cannot be returned.
Please describe your contact details clearly (phone number, e-mail address, etc.)
These accounts may experience difficulty receiving e-mails from TIU: @hotmail, @msn, @live, @outlook. Please provide an alternative address if possible.
All the information collected will be used solely for its intended purpose of evaluating applicants. Information will not be used for any other purpose.
Selection process --
First, a review of applications will be conducted, and only applicants deemed suitable will be contacted and invited for an interview (in person or via Skype). Those applicants who are invited to an interview may be requested to submit Letters of Recommendation from relevant institutions.
For the on-site final interview, reimbursement for round-trip airfare, domestic public transportation allowance, and hotel (one night) will be provided to overseas candidates.
Contact details
Global Talent Acquisition Department
Tokyo International University Foundation
4-23-23, Takadanobaba, Shinjuku, Tokyo 169-0075
Email: saiyou@tiu.ac.jp
Application Information
Contact: Global Talent Acquisition Department
Tokyo International University
Email Address: saiyou@tiu.ac.jp
Contact Person: If you wish to apply for this position, please specify that you saw it on AKATECH.tech