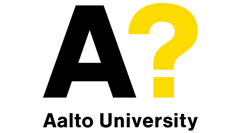 School/Institution:Aalto University School, Finland, Helsinki
Discipline: Electrical Engineering
Employment Type:Full-time
Posted:2020-05-06
Contact Person:If you wish to apply for this position, please specify that you saw it on AKATECH.tech
Postdoctoral researcher in designing and developing IoT solutions utilizing blockchains
Department:epartment of Communications and Networking
Institution: Aalto University School of Electrical Engineering, Helsinki, finland
Job Categories
Academic Fields
Computer Engineering

Computer science
Are you developer interested in cutting-edge research on blockchains, Internet-of-Things (IoT) and their real-world applications?
We are looking for postdoctoral researchers to participate in the architecture development work at Aalto University's SOFIE project. In this position you will have a chance to make an impact by designing and developing real-world IoT solutions utilizing blockchains.
SOFIE (https://www.sofie-iot.eu) is an Aalto-led European Union H2020 project researching the use of blockchains for IoT device access federation across multiple organizations, multiple blockchains and multiple IoT platforms. It enables cross-organization IoT device operation and through the use of smart contracts, enables secure and automated access control to shared and private resources.
In this position you will work on interesting and challenging real-world problems using cutting-edge technologies, together with experts all around the Europe.
Your role and goals
The work focuses on further developing the SOFIE architecture and framework components, which will interact with blockchains and/or IoT platforms. The work also includes designing and developing smart contracts using Ethereum, Hyperledger Fabric, and/or other suitable distributed ledgers, as well as architectural design, and supporting trainees and master's thesis workers.
Your network and team
The work will be done in co-operation with Aalto's SOFIE team and other SOFIE partners. The Aalto's SOFIE team is composed of a professor, 3 post-docs, and 2 doctoral students. Altogether the SOFIE project consists of over 40 persons from 10 partners in 4 different countries (Greece, Italy, Estonia, Finland) including companies (LMF Ericsson, Rovio, Engineering, etc.), SMEs, university and public utility.
Your experience and ambitions
We except applicants to have:
Doctoral degree in computer science or related field
Experience in designing (software) architectures for heteregoneous distributed service environments
Experience with distributed service design and API specification
Good programming skills, including Python and Web service backend development
Experience with Solidity and smart contracts
Familiarity with virtualization solutions (Docker, Kubernetes, etc.)
Ability to work independently and take initiative in an environment that relies on tight cooperation with others
Good command of written and spoken English
Ability to work in an international environment
This position enables work on novel technologies including blockchains in international, real-life environment.
About Aalto University and Finland
Aalto University is a community of bold thinkers where science and art meet technology and business. We are committed to identifying and solving grand societal challenges and building an innovative future. Aalto University has been ranked the 9th best young university in the world (Top 50 under 50, QS 2018) and one of the world's top technology challenger universities (THE 2017), for its outside-the-box thinking on research collaboration, funding and innovation.
Aalto has six schools with nearly 11 000 students and 4000 employees of whome close to 400 are professors. Our campuses are located in the capital area of Finland. With 37% of our academic faculty coming from outside Finland, we are a highly international community with strong academic standing.
At Aalto, high-quality research, art, education and entrepreneurship are promoted hand in hand. Disciplinary excellence is combined with multidisciplinary activities, engaging both students and the local innovation ecosystem. Our main campus is quickly transforming into an open collaboration hub that encourages encounters between students, researchers, industry, startups and other partners.
Aalto University was founded in 2010 as three leading Finnish universities, Helsinki University of Technology, the Helsinki School of Economics and the University of Art and Design Helsinki, were merged to strengthen Finland's innovative capability.
As a living and work environment, Finland consistently ranks high in quality-of-life. For more information about living in Finland, please visit our information pages for international staff: https://www.aalto.fi/aalto-university/international-staff-guide
Contact
Dr. Dmitry Lagutin
Department of Communications and Networking
Aalto University School of Electrical Engineering, Maarintie 8, Espoo, finland
Contact Person: If you wish to apply for this position, please specify that you saw it on AKATECH.tech