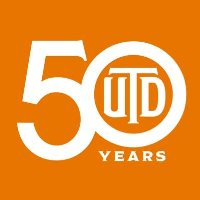 School/Institution:The University of Texas at Dallas, United States, Richardson
Discipline: Electrical Engineering
Employment Type:Full-time
Posted:2020-05-13
Contact Person:If you wish to apply for this position, please specify that you saw it on AKATECH.tech
Assistant Professor in Electrical and Computer Engineering
The Erik Jonsson School of Engineering and Computer Science at The University of Texas at Dallas invites applications for three faculty positions at the Assistant Professor level in all areas of Electrical and Computer Engineering.
The Electrical and Computer Engineering Department at UT Dallas has over 50 faculty members, approximately 600 EE and 550 CE undergraduate students, 425 EE and 90 CE graduate students, and offers BS, MS, and PhD degrees in Electrical Engineering and Computer Engineering, as well as MS and PhD degrees in Telecommunications Engineering.
Areas of research expertise include microelectronics, photonics, communications and networks, signal processing, machine learning, embedded systems, analog electronics, power and energy systems, and control. Particular emphasis will be placed upon candidates having research expertise in either computer engineering, or power and energy systems, or both. Examples include: Security, Electronic Design Automation, Machine Learning (and Embedded ML), Hardware Accelerators, Hybrid Computing, Human-Computer Interactions (Auditory), Data Center Architectures; Data Center Power Systems and Renewable Energy.
Located in the center of one of the most dynamic economic and demographic regions of the nation, The University of Texas at Dallas is a young, dynamic research institution on the cutting edge of science, technology, medicine, business, and the arts.
In recent years, the University's teaching mission has expanded, its external research funding has nearly doubled, its program offerings have grown, and it has gained national and international recognition. The enrollment at UT Dallas has now grown to more than 29,000 students of which 8,450 are in ECS.
Qualified candidates must have a strong commitment to undergraduate and graduate education, and the potential to develop an externally funded research program.
Review of applicants will begin immediately and will continue until the position is filled. Indication of gender and ethnicity for affirmative action statistical purposes is requested as part of the application.
To apply for this position, applicants should submit a letter of application; a current curriculum vitae; statements of research and teaching interests; recent teaching evaluations (if available); and the full contact information for at least three academic or professional references.
Minimum Education And Experience
An earned graduate degree appropriate to the academic discipline and a record of productivity and professional achievement.
Preferred Education And Experience
Earned PhD in Electrical or Computer Engineering or Computer Science or a closely related field is required.
Essential Duties And Responsibilities
Demonstrate a commitment to teaching excellence.
Prepare and teach undergraduate and/or graduate classes.
Contribute assessment information and data as requested.
Mentor and/or advise undergraduate and/or graduate students.
Establish and/or continue an independent line of research.
Continue to expand professional influence in the academic discipline through research and/or publication.
Engage in service within the academic unit, the university, and the profession as appropriate based on teaching and research constraints.
Important Message
All employees serve as a representative of the University and are expected to display respect, civility, professional courtesy, consideration of others and discretion in all interactions with members of the UT Dallas community and the general public.
UT Dallas does not discriminate on the basis of race, color, religion, sex (including pregnancy), sexual orientation, gender identity, gender expression, age, national origin, disability, genetic information, or veteran status in its programs and activities, including in admission and enrollment. For inquiries regarding non-discrimination policies, contact the Director of Institutional Equity at InstitutionalEquity@utdallas.edu or the Title IX Coordinator at TitleIXCoordinator@utdallas.edu, or call 972-883-5331
Contact Person: If you wish to apply for this position, please specify that you saw it on AKATECH.tech