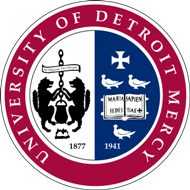 School/Institution:University of Detroit Mercy, United States, Detroit
Discipline: Electrical Engineering
Employment Type:Full-time
Posted:2021-02-28
Contact Person:If you wish to apply for this position, please specify that you saw it on AKATECH.tech
Instructor - Electrical & Computer Engineering
University of Detroit Mercy
Full-Time China Programs Instructor Positions
Electrical & Computer Engineering
Computer Science
Environmental Engineering
Mechanical Engineering
The College of Engineering & Science at the University of Detroit Mercy invites applicants for multiple full-time non-tenure track China programs cohort instructor positions in Electrical and Computer Engineering, Computer Science, Environmental Engineering, and Mechanical Engineering.
An earned doctorate in an appropriate area or a master's degree with significant, relevant industrial experience, strong communications skills, and commitment to excellence in teaching are required. Instructors will teach undergraduate classes to support College programs with partner institutions in China and in the United States at Detroit Mercy. Overseas teaching assignments can range from two to 15 weeks in length.
The successful instructor at Detroit Mercy is an effective and enthusiastic teacher at the undergraduate level, engaging students in active hands-on learning. Instructors will teach undergraduate courses and laboratories and may supervise projects in engineering courses in the discipline.
The College's faculty forms a vibrant community of teaching scholars with a strong focus on professional and academic mentorship of students. US News and World Report has ranked Detroit Mercy in the top tier of Midwest Regional Universities for the past 18 years (15 percentile in 2019), and the Wall Street Journal / Times Higher Education College Rankings for 2020 place Detroit Mercy at 3rd in Michigan and 172 Nationwide.
Michigan's largest, most comprehensive private University, the University of Detroit Mercy is an independent Jesuit-Mercy Catholic institution of higher education sponsored by the Society of Jesus and the Religious Sisters of Mercy. The university seeks qualified candidates who will contribute to the University's mission, diversity and excellence of its academic community. The University of Detroit Mercy is an Equal Opportunity Affirmative Action Employer with a culturally diverse faculty and student body and welcomes persons of all races and backgrounds.
Candidates should submit a cover letter, curriculum vitae, a statement of teaching philosophy, and should include contact information for three references.
Interested candidates should apply by visiting https://apptrkr.com/2157280
Review of applications begins immediately and continues until positions are filled.
Contact Person: If you wish to apply for this position, please specify that you saw it on AKATECH.tech