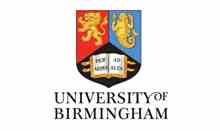 School/Institution:University of Birmingham, United Kingdom, Birmingham
Discipline: Chemical Engineering
Employment Type:Full-time
Posted:2021-03-05
Contact Person:If you wish to apply for this position, please specify that you saw it on AKATECH.tech
Research Fellow - Chemical Engineering
University of Birmingham
Town / City: Birmingham
Position type: Full time
Salary: £ 30,942.00 - £ 42,792.00
Reference number: BIR-21000085
Position Details
School of Chemical Engineering
Full time starting salary is normally in the range £ 30,942 to £ 40,322, with potential progression once in post to £ 42,792 a year.

Grade 7

Full Time / Fixed Term Contract up to 30 August 2022 (with potential extension)
Job summary
To contribute to the research activities of the established research program on the development of Intermediate Temperature Polymer Electrolyte Fuel Cells (PEFCs) within the Center for Fuel Cell and Hydrogen Research (CFCHR). This post is part of a large Innovate UK funded project; H2GEAR, for the development of Hydrogen Fuel Cell aircrafts.
The successful candidate is expected to have knowledge and experience of working with PEFCs materials and components, and the fabrication and testing of polymer electrolyte membranes and cells. The candidate will be involved in research including the fabrication and characterization of novel membrane materials, fabrication of membrane electrode assembly and testing single cells and short stacks of intermediate temperature PEFCs.
The Research Fellow will report to and work with Prof Robert-Steinberger-Wilckens (PI) and Dr Ahmad El-kharouf (CoI). The selected candidate will also be required to support the IT-PEFC sub-group lead by Dr Ahmd El-kharouf, and supervise MRes and PhD students working in the respective area.
Scope of the Role
Work within H2GEAR research project and contribute to writing bids to expand the activity of the intermediate temperature PEFC sub-group.
Operate within area of ​​specialism.
Analyzes and interpret research findings and results.
Main Duties / Responsibilities
To contribute to the research-related activities and research-related administration of the CFCHR and its intermediate temperature PEFCs

To undertake management / administration arising from this research.

This is an analysis and interpret date.

To apply knowledge in a way which develops new intellectual understanding.

To disseminate research findings for publication, research seminars, etc.

To contribute to developing new models, techniques and methods.

To collect research data through a variety of research methods, such as scientific experimentation, literature reviews, and research interviews.

To present research outputs, including drafting academic publications or parts thereof, for example at seminars and as posters *

To provide guidance, as required, to support staff and any students who may be assisting with the research.

To deal with problems that may affect the achievement of research objectives and deadlines.

To contribute to and coordinate writing of bids for research funding.

To supervise students on research related work and provide guidance to PhD students where appropriate to the discipline.
Specific responsibilities of the Research Fellow will be as follows:
Fabrication of polymer and composite electrolyte membranes using tape casting and ultrasonic printing techniques.

This will include the optimization of solutions, layer fabrication and sintering processes.

Characterization of the membrane materials including measurements of;

proton conductivity, ion exchange capacity, water uptake, mechanical strength and SEM images.

Membrane electrode assembly fabrication and testing to assess the cell performance and lifetime.

Design and implementation of accelerated stress tests to assess the durability of the developed materials.

post-Test data Analysis

Dissemination of knowledge through scientific publication, participation in conferences, seminars and project meetings.

.

Preparing and conducting topical meetings, report writing, support to financial reporting

Taking care of timely delivery of outputs, milestones and reports related to the project

Assistance in coordinating the Intermediate temperature PEFC sub-group of the center
Person Specification
Essential:
Hold, or be close to completing, a PhD degree in Physics, Chemistry, Chemical / Mechanical Engineering or related discipline, a higher degree relevant to research area or equivalent qualifications.

Experience of working with polymers, fuel cell test stations and electrochemical systems.

Experience in fabrication and characterization of thin polymer layers.

Understanding of various ex- and in-situ characterization methods.

Ability to communicate complex information clearly.

Ability to assess resource requirements and use resources effectively.

Understanding of and ability to contribute to broader management / administration processes.

Ability to manage and guide PhD students.

Ability to effectively utilize a range of computer packages (eg Microsoft, references software, thermodynamic packages) for calculations, quantitative analysis of data and preparation of reports and presentations.
Desirable:
Experience with tape casting or ultransonic spray for the production of coatings or thin films.

Possess sufficient breadth and depth of specialist knowledge in the discipline and research methods and techniques to work with established research programs.

Understanding of fuel cell and hydrogen systems, and the relationship between the different balance of plant components
Informal inquiries can be made to John Hooper, email: jchooper@bham.ac.uk, or Tel: 0121 414 5275
Contact Person: If you wish to apply for this position, please specify that you saw it on AKATECH.tech